The Zanaga Iron Ore Project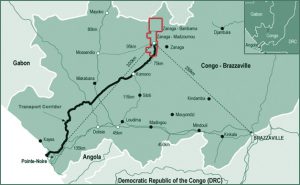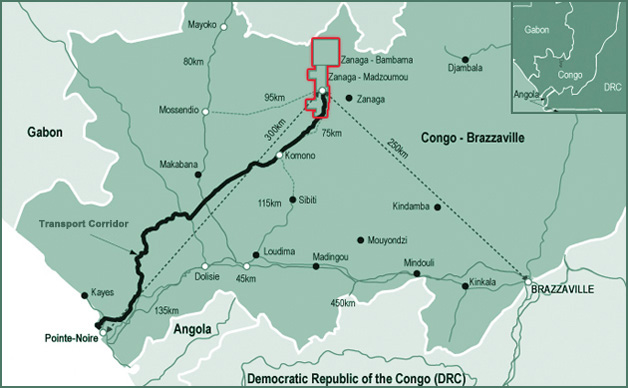 Location
The Zanaga Project is located in the south west of the Republic of Congo, close to the border with Gabon and approximately 300 km northeast of the port city of Pointe Noire and 250km northwest of the capital Brazzaville.
The Project
The Zanaga Project is planned to be a large scale iron ore mine, processing and infrastructure operation to produce 30Mtpa of high grade iron ore (pellet feed) concentrate over a 30 year life of mine and developed in two stages.
Stage One – 12Mtpa of pellet feed
Stage Two – 18Mtpa expansion to 30Mtpa of pellet feed
The primary facilities for the Project will include:
An open pit mining operation and associated process plant and mine infrastructure
Slurry pipeline for transport of iron ore concentrate from the mine to the port facilities
Port facilities and infrastructure for dewatering and handling of the iron ore products for export to the global sea-borne iron ore market located within a proposed third party constructed port facility
Feasibility Study Highlights
Stage One 12Mtpa initial operation

$32/t FOB bottom quartile operating costs including royalty
$2.2bn capital expenditure
Premium quality 66% Fe content iron ore pellet feed product

Stage Two expansion to 30Mtpa operation

$2.5bn capital expenditure for additional 18Mtpa production
$26/t FOB bottom quartile operating costs including royalty
Premium quality 67.5% Fe content iron ore pellet feed product

Benefits of Staged Development

Lowers capital and execution risk
Reduces financing requirements
Maximises return on capital
Permitting
Environmental Permit received
Mining Licence received
Mining Convention in place
Potential DSO
There is an opportunity to supplement the Project's pipeline pellet feed production with up to 2Mtpa of direct shipping ore ("DSO"). The defined mineral resource includes some high grade material that can be classified as DSO and an area of the deposit has been identified that includes a concentration of material at surface which can be simply crushed and screened to produce a saleable iron ore lump and / or fines product without any requirement for beneficiation.
Any decision to proceed with the DSO operation will be dependent upon confirmation of a suitable transport solution, including obtaining access to rail and port infrastructure on acceptable terms.
Project Next Steps
The Project team are progressing key value-adding activities on the project. These important preparatory steps will place the Project in a position to seek financing and progress to development when market conditions are favourable. These value adding activities include the establishment of port and power agreements, and issue of the environmental permit.
In addition, the Project Team are investigating the potential for commencement of smaller scale production by utilising existing and improved logistics infrastructure.